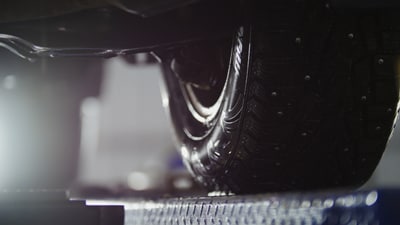 Tire Alignment Service at Genesis of Northwest Hyundai
You've gotten your oil changed, filled your wiper fluid reserves, and checked the treads on your tires. What else are you missing? When's the last time you had your tires aligned? Even the most seasoned drivers can have difficulty discerning when they're due for an alignment. Thankfully, that's where the experts at Genesis of Northwest Hyundai come in, they'll be able to tell you with certainty when your vehicle could benefit from a tire alignment.
When your vehicle's suspension system gets knocked out of proper alignment, it can cause excessive strain on your tires and lead to other issues you'd rather avoid. You'll need an expert technician to get the suspension in line again, and we recommend only the best from our service center. We strive to ensure that your auto service with us is timely, convenient, and efficient.
Our service technicians will inspect your vehicle thoroughly and let you know if alignment is necessary. If it is, they'll complete the service quickly, and have you on the road in no time at all.
At Genesis of Northwest Hyundai, we work to make Genesis ownership as stress-free as possible, so you can enjoy your incredible vehicle for years to come. Our experienced technicians will be able to perform routine maker-prescribed maintenance and as-needed repairs with ease and efficiency. To make servicing your vehicle even easier, we offer a complimentary service valet for your first three years of ownership. We'll come to your location of choice to pick up your vehicle and provide you with a loaner to use while you wait. We know your time is valuable, and we're delighted to provide this service to you, free of charge.
How Do You Know If Your Car Needs Alignment Service?
As we mentioned, it can be difficult to tell when your vehicle needs an alignment, but there are several subtle signs to watch for as you go about your driving. Look for excessive and uneven tread wear on your tires, and a tendency to pull to one side or the other when you're driving straight ahead, these symptoms will let you know that it's time to bring your car in for an inspection.
You can trust the assessments and recommendations of our auto experts because their number one goal is your complete satisfaction. Driving a Genesis is an incredible journey, and we want to ensure you enjoy it for as long as you'd like, and not a minute sooner.
Schedule Alignment at Genesis of Northwest Hyundai
When auto care is as convenient as it is at Genesis of Northwest Hyundai, you won't have to delay maintenance work due to a busy schedule. You can schedule service - and your complimentary service valet - easily online in just a few quick steps. Soon enough you'll be back on the road with a renewed peace of mind, and that is truly priceless.